How many pages should a resume be
How many pages should a resume be? What is the best resume font size? How far should a resume go? These questions boil down to one simple thing – understanding of the proper resume length. Determining how many pages your resume should be is one of the most common challenges people face when preparing for the upcoming job search campaign. In fact, many resume professionals and career experts struggle with this very issue. The reason why choosing an ideal length is not easy is because too little information may not be enough for employers while too much information may lead recruiters to lose interest in the application. To make things worse, one size doesn't fit all. What works for a recent graduate will not be an adequate solution for an experienced professional. So it is quite a careful balancing that needs to be done when writing a resume. This balancing should be based on the understanding of hiring practices as well as employers' expectations. The following tips will help you answer the question – how long should your resume be in 2019?
It is 2019. We don't use fax machines anymore. Neither do we use paper resumes that much. However, one thing remains the same – job seekers still have the same task which is to impress potential employers. Fast. But does that mean your resume should be one page regardless of your skills and achievements? Not necessarily, because how then can you prove your proficiency if you've got a lot to offer? The big question is how to maneuver between a six-second test (this is how much employers spend in average on skimming through a resume) and listing all necessary information on the document? Here is the principle that should drive the entire writing process (and hopefully which will help you resolve the issue): your resume should be as short as possible while still communicating your worth.
One-Page Resume
Many job seekers try to make sure their main application document falls into this category. The rationale behind this is simple: if employers spend six seconds on average on scanning one resume, then the document should be no longer than one page. However, this page limit usually works for students, graduates, entry-level employees and even those who spent 3-5 years in the workforce. The truth of the matter is that the number of pages should be tied to the level of proficiency and accomplishments of the candidate. It is just that usually, the number of years spent in the workforce correspond with the level of achievements. However, sometimes professionals with 10 (or even 15) years of experience won't have enough "muscles" for a two-page resume.
Two-Page Resume
Seasoned professionals with a solid list of achievements are entitled to a two-page resume format. If you can't squeeze your experience into a one-page format, that's OK. That doesn't mean you will be automatically disqualified from the competition because your resume is too long. The only rule is not to include information that has nothing to do with the job you are applying for (in that case, your resume may well be beyond two or even three pages). Make sure you include only relevant achievements, experience, educational credentials, and other information that will communicate that you are the right fit for the company.
Three Pages and More?
There are instances where applicants actually need to go beyond two or even beyond three pages. This is extremely rare though. Professionals with experience in academia or medical field often have to list their publications and other credentials that often result in a three-page resume or even longer. This is an acceptable practice in the field of science, medicine, and academia. For most candidates going beyond two pages isn't necessary at all. In fact, we rarely saw a job seeker who actually needed that third page.
One More Time: Should a Resume Be One Page?
What to Put on a Resume?
The length of the document is defined by its content an all content is divided into sections for better readability. Submitting a resume in the form of an essay is like jumping off the skyscraper hoping to successfully land on your feet. But the question is what kind of information should be on a resume in order to keep it relevant and concise at the same time?
Contact Information. This part of your resume should include your name, professional title, phone number, email address, and preferably a link to your LinkedIn and URL to your website/portfolio.
Summary. This is your value proposition. It is best to write it in the form of a bulleted list (4-6 statements will be more than enough). Keep in mind that this section should be about what you can offer to your employer (ideally, it is what they want).
1. How Long Should a Resume Be?
Write a one-page resume if you've got less than 6 years of experience. Write a 2-page resume if you've got 7–10+ years of experience. Longer resumes are fine for lots of achievements—like if you're an artist or a project manager.
How many pages should a resume be?
Should a resume be one page?
A resume should be one page in length. A 'two page resume' is OK if you can't cut it shorter without hurting the message. Professionals with lots of experience in technical professions often need a two page resume.
Think who you're up against. If you've got accomplishments that'll blow the manager away, don't cut them. That said, most managers spend six seconds reading resumes. If you can stuff all your goodies in a single page resume, do it. Most resumes shouldn't be 3 pages.
Can a resume be 2 pages?
Yes, a resume can be two pages long. A two-page resume is a good choice if you have more than 6 years of relevant job experience. In this case, a two-page resume may even be necessary to convey all of the critical information an employer needs to know. Also, two-page resumes are usually accepted for academia and grad school applications.
How long can a resume be?
One or Two Page Resume in 2022?
How Long Should a College Resume Be?
One Page Resume—The Gold Standard
Tailor your resume to the job. To save space, mercilessly cut anything that doesn't fit this job opening.
Write fewer, shorter bullet points. Making 3–5 bullet points per job is a space-saver. So is limiting them to 1–2 lines each.
Stick to what's impressive. Don't say everything about your work history. Commit to a set amount of space. Then fill it with your best achievements.
Be selective with what to include in the resume and don't go back too far on your resume: 10 to 15 years is more than enough in most cases.
Don't send MS Word resume templates. The best one page resume in Word format can turn to a 2-page resume when you email it.
Use margins, right fonts, and line spacing to shorten your resume. But there's a limit. Overdoing it will make your resume hard to read.
How many bullet points per job? Resumes should list 3–5 bullet points per job. A resume with more looks cluttered. Less looks weak.
Leave off references. Everyone knows they're available on request. Cut them if they make your resume two pages.
Write a shorter qualifications summary. Stick to 3 lines as a resume space-saver.
1. Light One Page Resume Template
The Light Resume Template by Gilang Tito Dharmawan at Behance is simple, spare, and inviting. It's a one-page resume template that draws the reader in and promises quick access to pertinent info.
2. Eye-Catching One Page Resume Template
This simple, professional one-page resume template is by ikono. It's clean, easy-to-read, and uses graphics in an unobtrusive way. The great call to action in this single-page resume template adds extra oomph.
3. Modern One Page Resume Template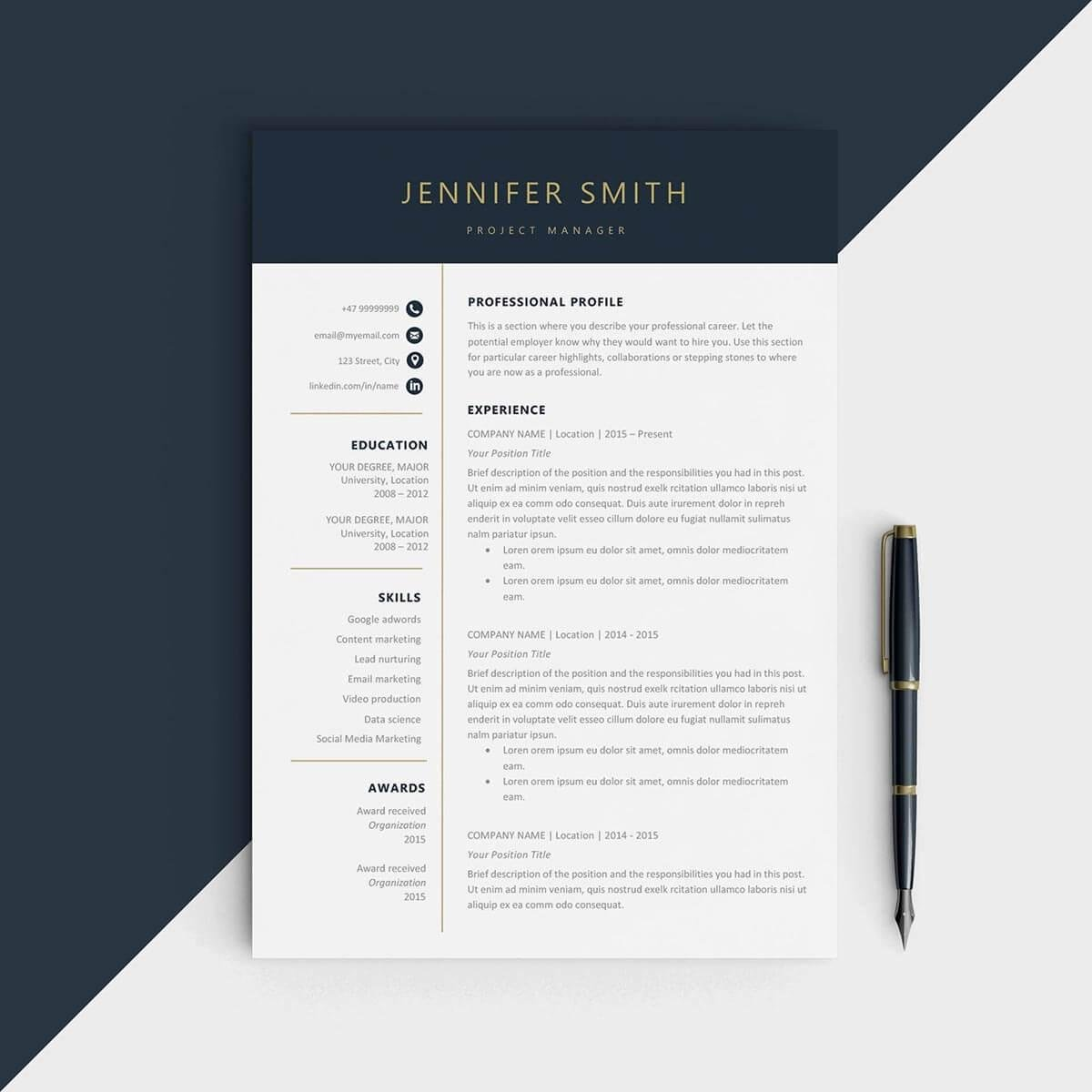 Need a simple, friendly MS Word one page resume template? Try the Modern Resume Template for sale on Etsy. The dark headings and dividers make your 1-page resume easy on the eyes. The dark heading makes it pop.
4. Simple Professional One Page Resume Template
This Simple Professional Resume Template and CV Template is straightforward and effective. It uses design to stand out in a good way. Like the Modern one-page resume template above, it's divided for easy readings, with attention-getting headings. The big name and dark heading give it oomph.
5. Spare One Page Resume Template
Just want a bare-bones one page resume template that feels like a breath of fresh air? The Emma single-page resume template on Etsy conveys professionalism and efficiency. It's eye-friendly, but dodges flashy extras to get the job done.
Expert Hint: When should you use a resume, and when is it better to use a curriculum vitae? It depends. CV and resume actually have a different meaning across languages. Read about the difference between a resume and a CV.
Resource:
https://prime-resume.com/blog/how-long-should-a-resume-be-in-2019
https://resumelab.com/resume/length